It's midnight here, so I'm going to do this one quick. The quantity may not be there, but I hope the quality is :) Enjoy "Countdown to UEFA Euro 2008: Issue 3", and if you don't know what I'm talking about, read
Issue 1
and
Issue 2
. Let's get started!
UEFA Euro 2008, the next major football competition after the FIFA World Cup, has pretty much left us all feeling excited(even if England isn't in). This magazine series of "Countdown to UEFA Euro 2008" is about each team's profile in the competition, and I will go through 7 major teams in the tournament in the time span of 4 days, telling you about their UEFA Euro history and their key players. Hope you love it and enjoy:
Flying to Holland and Czech Republic, I saw a great video about the 2 mascots of Euro 2008. Many people would rather be interested in the football, but the mascots are worthy mentions. To cut a long story short, today I'm going to introduce to you Czech Republic and Netherlands, and at the same time let you meet with Trix and Flix, the mascots of Euro 2008. Let's go check it out!
Czech Republic:

Team Profile:
Association:
Českomoravský fotbalový svaz

Manager: Karel Bruckner
Captain: To be decided(Formerly Tomas Rosicky, but he missed out the campaign on injury)
Most Caps: Karel Poborsky (118)
Top Scorer: Jan Koller (51)
FIFA Ranking: 6
Number of Times Champions: 0
The Ones to Watch:
Petr Cech
His season at Chelsea may have been plagued by injuries, but nevertheless, he's still a great goalkeeper. Some may argue that he's not number one keeper anymore, being beaten by the likes of Gigi Buffon and Iker Casillas. Well those people should just see how Cech play. He's still as good as ever, and injuries may have make him a little more shaky in goal, but he's a great shot-stopper who could still be the main factor of Czech Republic's successful Euro 2008 campaign.
Jan Koller
This 35 year-old Nurnberg striker is touted as some people as a "has-been" and that he can no longer cut the mustard anymore. He is in fact, one of the rare few players in the current Czech Republic squad that has played and scored goals for the once "Czechoslovakia" before thy split into the Czech Republic and Slovakia we know today. But I beg to differ. Tall and strong, he often make his opponents feel his physical presence with dangerous headers and spectacular shots. Some may argue that he's already past his peak, but Jan Koller is still the main driving force behind the Czech Republic team. Talk about Tomas Rosicky and Galasek, no one has much more experience than Jan Koller, and with Rosicky out injured, he is a hot candidate for the captain armband. He is simply pure inspiration for the other players, and he may just give more of a "mental" presence than a physical one for the Czech team.

Odds:
Czech Republic have a small chance of winning, and like Croatia they are underdogs in this competition. The depth is not really outstanding, but they have a squad with a good amount of talent with Petr Cech, Jan Koller, Milan Baros and many more. Czech Republic has a good history in this competition, so it shouldn't be a problem. But sadly, they're just unlucky.
Without one of their best player, Tomas Rosicky, it will be difficult to go far. Cech can orchestrate the defence, Koller can organise the front, but who's going to lead the midfield? Heavy blow at such a crucial time. Another example of their bad luck is getting drawn into the same group as the host; it's never good when that happens because host countries normally have a good advantage and go far in the competition. The first fixture of the tournament, Switzerland vs Czech Republic, will tell it all.
For me, I'd say that they will go till the quarter-finals but will eventually lose at that stage. But don't count on me, underdogs are always difficult to tell ;)
Chance of Winning: 7.5/10
Netherlands:
Team Profile:
Nicknames: Oranje, Clockwork Orange, Orange Crush, The Orangemen
Association:
Koninklijke Nederlandse Voetbalbond
(Royal Netherlands Football Association)
Manager: Marco van Basten
Captain: Edwin van der Sar
Most Caps: Edwin van der Sar (125)
Top Scorer: Patrick Kluivert (40)
FIFA Ranking: 10
Number of Times Champions: 1
The Ones to Watch:
Edwin van der Sar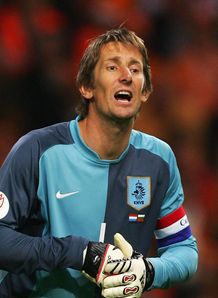 Like many "seniors" of the competition, this year's Euro 2008 is van der Sar's final year with the Oranje. During the qualification stages of Euro 2008 he has said that he will retire after Euro 2008, at the same time hoping to bring some success for Holland.
There are other good keepers like Petr Cech and Gigi Buffon, but no one has more experience than van der Sar. Netherlans' squad is rather young, so the talent is there but the experience isn't. But making van der Sar captain was the right choice, because you have seen how inspirational he can be for Manchester United, leading them to the Premiership title with a few great saves and motivational moves. Edwin van der Sar has the experience and the skill, which makes him stand out from other keepers as they have skill but no experience, or vice-versa. This trait of him will make him the perfect keeper for the Oranje.
Klass-Jan Huntelaar
Already very well-soughted from many clubs, Klass-Jan Huntelaar is only 24 but can score goals like van Nistelrooy. He was face-saver for Netherlands on countless occasions, as he score spectacular last-minute goals to give Marco van Basten the results he want. He is a great technical player, as seen with his brillian bicycle kicks and exceptional shooting skills. A calm-finisher full of composure, that is what makes him a goalkeeper's nightmare as he lead the Oranje's attack which will always be a threat for other teams. There have been many speculation on whether Huntelaar or van Nistelrooy will get the lone striker spot, but regardless of whether he starts or is a substitute, expect him to score goals.
Odds:
Netherlands has quite a wealth of talent for attack and midfield. In attack they have the ruthless goal-scoring machine Ruud van Nistelrooy and the up-and-coming Huntelaar who "hunts" for goals. In midfield they have Rafael van der Vaart, one of the few "young but experience" players in the squad, Robin van Persie, who although have been plague by injuries and may not last the full 90 minutes for Netherlands, is still a good striker who can play in attack or at the wing, which was he natural position in the past. They also have Wesley Sneijder, who had an excellent season at Real Madrid which led them to the La Liga title last season, probably he's the signing of the season in the La Liga. And finally, Arjen Robben. His season at Real Madrid may not be as good as Sneijder's, but the quality is still there. Netherlands' talent chest is filled.
Then you must wonder, "That should make that champions right?", I have to agree, they got some chance in the competition, as Netherlands are known to breed excellent attackers, from examples such as Frank Rijkaard, Ruud Gullit and van Basten. Their attack may be good, but how about their defence? Now this is what will make them go down, their defence just won't be able to cope with the other teams in the competition, and seeing that they are so unlucky to go into the same group with France and Italy, they probably won't go far. With a little bit of luck they can qualify for the next round, but still, they won't go far. Their defence needs huge sharpening, because however good your attack, you just need a stable "backbone" or your attacks will fail. Even van der Sar won't be able to save the Oranje's weak backbone this time.
Chance of Winning: 7.5/10
Trix and Flix:
Meet Trix and Flix, the official mascots for UEFA Euro 2008. With their pretty funny heads, they were chosen ahead of their other competitiors, Zagi and Zigi and Flitz and Bitz, because of their names. They feel the name "Trix and Flix" would become a vital part of the understanding of the whole event. Now here's the music video of the official theme song of Euro 2008, "Like a Superstar by Shaggy", starring Trix and Flix themelves!
That's all folks. As the competition date draws closer and closer, get ready for Issue 4, the final issue where I will go to Portugal to meet Ronaldo, and plus many more features, including my predictions and the sloggan of the tournament. Stay tune, now take cares and good bye.
Jump to:
Issue 1
Issue 2
Issue 4